5 Day Kalari Retreat Camp @ ₹12,999
Next Dates: To be Announced
Join our retreat to rejuvenate your body, mind, spirit and let go of the emotional weight from your past – Experience a sense of physical vitality as you balance your energy and clear your mind!
Our 5 Day Kalari Camp is a transformational program that will teach you a daily fitness routine that you can follow for life to maintain optimal fitness levels. This program is designed for anyone looking to kickstart their physical transformation in just five days. With this immersive residential program, you will be able to fully immerse yourself in the experience and get personalized attention from our instructors.
This program is perfect for those seeking a more spiritual approach to fitness and wellness. As you immerse yourself in the practice, you will discover a deeper connection with your body and soul. By the end of the camp, you will have gained a renewed sense of vitality and a transformative self-discovery experience.
On day 3, there will be an exclusive tour inside the campus where the students will be explained about the Ayurvedic plants and home remedies by the doctor himself. Besides Kalaripayattu, we offer traditional Kalari and Ayurvedic treatments that are not included in the camp fee. Students can avail these relaxing and rejuvenating treatments at an added cost.
Our simple meditation practice will guide you back to your center, allowing you to connect with your inner self, where energy, creativity, and inner wellness are your natural state of being. Let yourself be enveloped in a sense of peacefulness as you embark on a journey of self-discovery and reconnect with your innermost essence.
Indulge in delicious South Indian vegetarian dishes made from our own organic farm's produce, all served in a home-cooked style. Our comfortable triple-sharing rooms feature attached washrooms, and we're more than happy to accommodate special requests from families and solo travelers.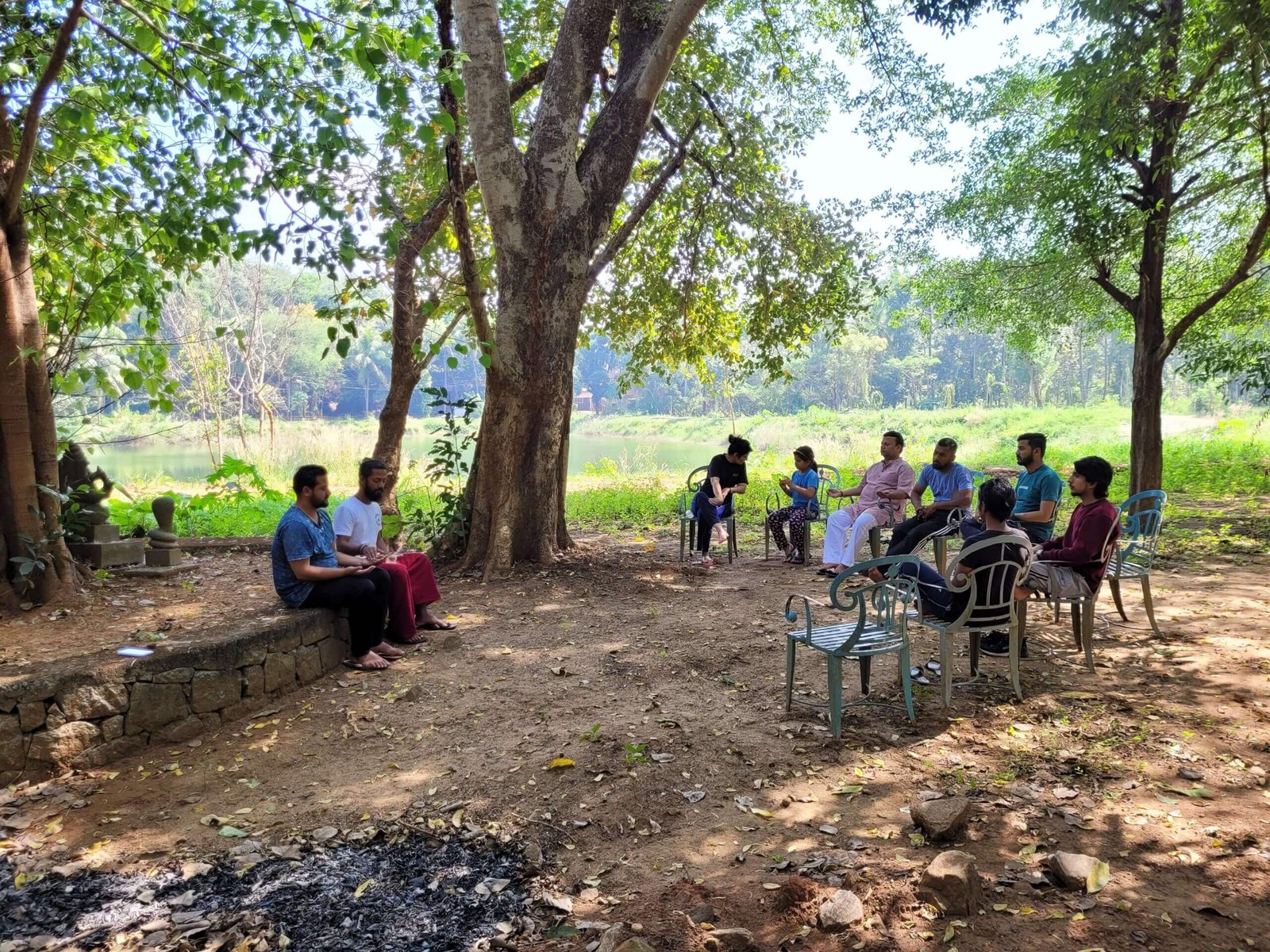 Our Gurukulam is a perfect place to disconnect from the fast-paced world and immerse yourself in the healing power of nature, which can rejuvenate your body, mind, and soul. This program offers a range of outdoor activities, including invigorating treks, to help you reconnect with the natural world and find inner peace.
As part of our immersive workshop experience, we believe in fostering connections that go beyond the practice of KalariPayattu. That's why we've incorporated special campfire bonding sessions into our program. These gatherings offer a unique opportunity to get to know your fellow participants, unwind, and infuse your journey with memorable moments.
Immerse yourself in the breathtaking natural surroundings during your stay at our Gurukul. Our mountain trekking adventures, expertly guided by our knowledgeable guru, will take you on a transformative journey through the lush landscapes. You'll have the opportunity to connect with the diverse flora and fauna that thrive in this serene environment.
We believe that Kalaripayattu is much more than a martial art; it's a profound spiritual journey. Your time with us will be a transformative experience that goes beyond physical fitness and self-defense. It's about connecting with your inner energy and channelizing it through the regular practice of Kalari and dedicated healing meditation sessions.